To purchase any of our books, use our convenient shopping cart, or send us a note in the contact form. Or you may place your order over the phone at (502) 352-5442
Nonfiction
Now Available!
Promptings
Kimberly Malkogainnis
Retail Price: $7.99
Publisher's Discount Price: $6.39
Do you frequently find yourself asking, "Why?" This book will, prayerfully, prompt you to see God acting in every circumstance in your life, from the mundane to the monumental; to appreciate that the Creator does, indeed, cause "all things [to] work for good to them that love God, to them who are called according to His purpose." (Romans 8:28). Through prose and poems based on personal experiences, the author shares pieces of her journey through faith-building events. If you have trouble focusing on God and His agenda, this book will sharpen your vision and lead you to reconsider God's purpose for the events in which you may find youself involved on a daily basis.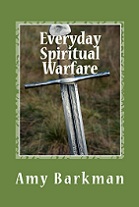 Everyday Spiritual Warfare
Retail Price: $12.99
Publisher's Discount Price: $10.39
Everyday Spiritual Warfre is a book for all Christians. It gives practical knowledge for victorious living day to day in a fallen world. This wisdom, finally in print and made available to the public, has been shared in workshops, retreats, and sermons in several states over the past few decades. Both new and mature Christians have found the material to be very helpful in their walk with the Lord Jesus Christ.
(Christian Living, SpiritualWarfare )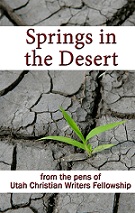 Springs in the Desert
from the pens of Utah Christian Writers Fellowship
Retail Price: $11.99
Publisher's Discount Price: $9.59

Springs in the Desert is a collection of articles, devotionals, poetry, prayers and stories written by the members of Utah Christian Writers Fellowship. The writers of UCWF work together to instruct, support, and encourage one another in a common goal: to honor the Lord Jesus Christ with their writing skills.
(Inspirational, Devotional, Collections)
According to Connie
Tales by and about Connie Dinda
Compiled and Edited by Anna Zogg
Retail Price: $7.99
Publisher's Discount Price: $6.39

According to Connie…
* Fish, like catfish and carp, swim downstream from lakes to the ocean. There they grow into sharks and whales.
* Never swallow watermelon seeds. Your stomach will swell up like a pregnant woman's.
* You can scare off the Easter Bunny if you whistle real loudly from the back porch.
* A sure-fire way to make it through a foreign customs stop without a hitch is to learn how to say, "Yes," in their language and agree to all of their questions. ("Are you bringing illegal drugs into our country?"—Yes—"Are you a terrorist?"—Yes—"Are you carrying weapons?"—Yes. It worked for Connie!)
* You can't have a birthday until you're properly dressed.
* She knows where a Pot of Gold is…but she's not telling.

This is just a sampling of what's in store inside these pages. May you laugh at her stories of greasing the sorority toilet seat, sharing a stage with Geisha girls while eight months pregnant, learning how to pick a good 'switching' stick, escaping from angry siblings and…well, open up this book and read on!
(Memoir)
The Wild One
The Life and Thoughts of Aden Beachy

Aden Beachy
Retail Price: $7.99
Publisher's Discount price: $6.39

From his early childhood in an Amish family, Aden Beachy yearned for something more. As a young man he dedicated his life to God, and since then has learned to trust his heavenly Father through hard times and good, through trials and successes, through sadness and joy. In this beautiful memoir, Aden recounts his memories of his life on the family farm in Holmes County, Ohio, his new life in Christ when he dedicated himself to God, and the Biblical wisdom he's learned along the way.
(Memoir, Christian Life Application)