Fiction
Novels that capture your imagination and transport you into stories that will resonate long after you reach The End.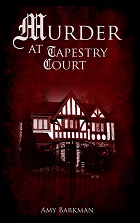 Murder at Tapestry Court
Amy Barkman
Retail Price: $10.95
Publisher's Discount Price: $8.76
Psychologist Elizabeth Daily flees to the gated community of Tapestry Court for a sabbatical to untangle parts of her own life, both professional and romantic. But the shadows of decades old secrets interwoven with present day mysteries there are distracting - and may be dangerous. Among the old world setting and charming neighbors, does a decade old murderer hide behind a tapestry of lies? And can Elizabeth discover the truth in time?
Purchase on Kindle or Nook
Coming soon!
The Days of Noah
Virginia Smith
Belief in the One God is dangerous in the technologically advanced city of Cainlan. But when Eliana meets Shem, she is drawn to his caring manner and deep faith. She believes Shem's assertion that the One God will wipe the earth clean of the corruption that fills it, especially when she discovers a terrifying secret known only to those high in the government's ruling council. Though desperate to escape her destiny, Eliana's life has been preordained. Not even Shem's God can rescue her from the fate for which she was born - becoming the next high priestess of the god Cain.
Bookmark this page, and check back often!